Description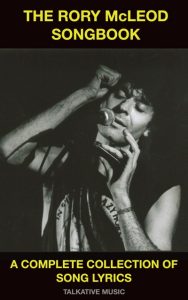 148 Songs Lyrics.
34 of the Songs with Chords
I have had so many requests for my song lyrics over the years, I finally decided to make this book. These songs should be sung aloud rather than just read to yourself – so that they can be learnt, forgotten, half remembered, twisted to suit a moment or an event. To be re-fitted like a suit of clothes, worn close to the skin, to keep out the wind and rain, to be thrown like a log or lump of coal onto a fire to keep warm by or cook with … or work with.
I don't want my songs to be written in stone. They are for singers to make their own, to change, add to, and to become part of everyone's story, part of our daily lives. These songs are to be sung round a campfire, across a table or a pillow, in a field, while walking, dancing, driving, showering … anywhere.
So use these any way you want. Get your dirty fingerprints, charcoal and tea stains all over them. Use them as a beer-mat, pillow, notebook – or piled up to level a rocking table or chair. Though I don't know how you can do that with a 'digital' E book.
I believe everyone has a song or story inside them bursting to get out, just waiting, ripening inside you somewhere. A feeling, a story looking for words or words reaching for a tune……
….
These dance-stories are songs about all kinds of things; my mum, my grandmother – and kids I went to school with. Song-dance-stories that have happened to me in my traveling. Stories I can't separate myself from. Stories that made me. Stories I made to sing about other people I have met. I wanted to give back to those people, repay them in some way, with a song about history, her-story, your-story, my-story and our-story. Stories to strengthen, to give a sense of belonging and identity. Tales to celebrate our richness and our differences. If I sing sad songs it's not because I want to make anyone miserable but because I want to take the sadness out of people….
….I was not paid to write these songs. They were in me and had to come out. The reason I made songs and didn't write books is because I wanted them to be heard by people, danced to, played live to people, sung along with. And I'm not a writer of books. I'm not trying to be clever making songs. Some are not pretty, they're ugly. Some songs are too long and winding like a twisting road you just want to get to the end of. And some songs are heavily populated. They are to be heard live, witnessed live – not made for recordings especially.